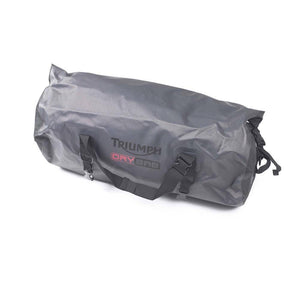 Fully waterproof Triumph Roll Bag offering up to 40 liters of carrying capacity, featuring roll top sealing with robust nylon clips, and welded seams throughout. Twin dual-purpose carry handles double as compression straps when in use. The Roll Bag also features a padded shoulder strap. 
Additional information:
- 40 liters capacity
- Triumph branded
- Mounting is directly to the passenger seat.
This item fits the following models: Triumph Tiger 1200, Tiger 800 and Tiger Explorer Models.