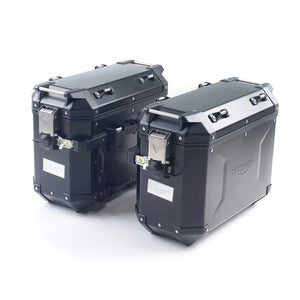 This item also requires A9501286 Frame mounting kit for fitment.
The robust and durable water-proof resistant expedition aluminium panniers are made from 1-5mm thick single skin aluminium structure, each pannier has a capacity of 37 liters and utilizes a quick release removal mechanism. Also features a one key locking mechanism using the bikes ignition key, top opening with detachable lid.
This item fits the following models: Triumph Tiger 900 GT, Tiger 900 Rally, Tiger 900 GT Pro and Tiger 900 Rally Pro.