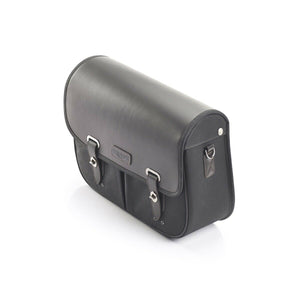 A durable, water-repellent left side pannier crafted from genuine leather, premium black waxed cotton and brushed gunmetal hardware. This pannier is sure to enhance the traditional, heritage feel of your Triumph. It provides 13.8 liters of storage capacity.

Requires use of Mounting Rail Kit A9518218 for installation, sold separately.
This item fits the following models: Triumph Bonneville Bobber > AC1195, Bonneville Bobber Black, Bonneville  - AC1196 >, Bonneville Speedmaster > AC1200 and Bonneville Speedmaster AC1201 >.