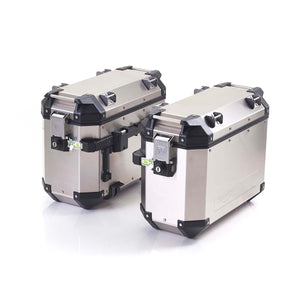 The robust and durable water-resistant Expedition Aluminium Panniers are made from a 1.5mm thick single skin aluminium structure, with polymer corner reinforcements for enhanced protection. Each pannier has a capacity of 37 liters and utilizes a quick release removal mechanism. The panniers also feature a "one key" locking mechanism, using the bike's ignition key.

Additional information:
- Offers a significant weight saving compared with Triumph Adventure Panniers
- High quality Triumph branded base and latch
- Eye-catching silver finish
- Top opening with detachable lid.

Mounting Kit is required.
This item fits the following models: Triumph Tiger 1200, Tiger 800 and Tiger Explorer Models.