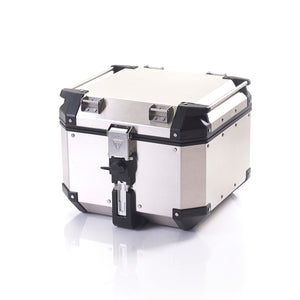 The robust and durable water-resistant Expedition Aluminium Top Box is made from a 1.5mm thick single skin aluminium structure, with polymer corner reinforcements for enhanced protection and dynamic mounting assembly to ensure performance levels are not compromised even when fully loaded. Each Expedition Top Box has a capacity of 42 litres and are designed specifically to be compatible with our keyless Tiger models.
Additional information:
- Offers a significant weight saving compared with Triumph Adventure Top Box
- High quality Triumph branded base and latch with a quick release attachment for ease of use
- Eye-catching silver finish
- Matching Expedition Panniers also available
- Mounting rail sold separately.
This item fits the following models: Triumph Tiger 1200 XCA, Tiger 1200 XRT, Tiger 1200 XCx / Tiger SE Desert and Tiger XRx / Tiger SE Alpine.